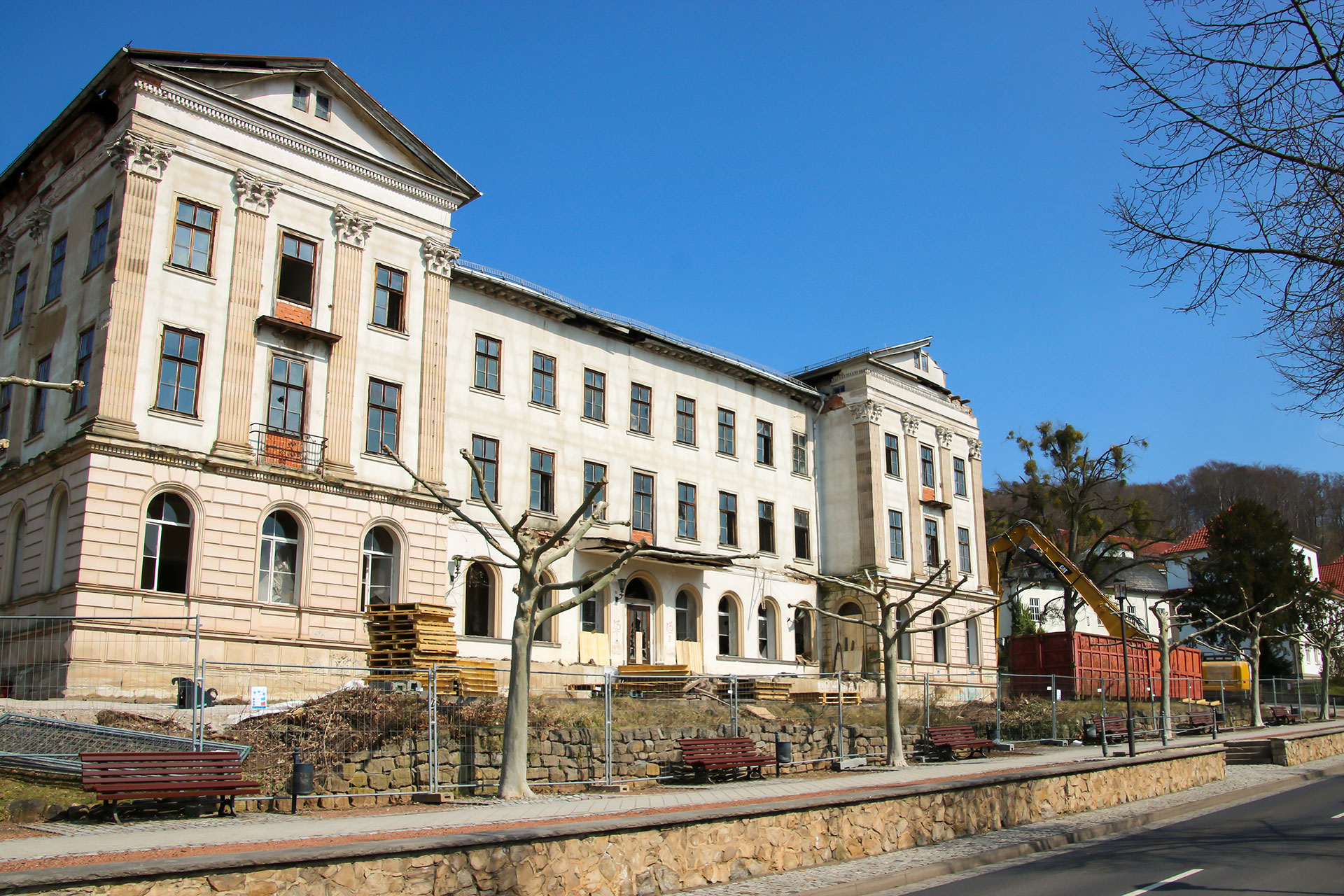 Client: City of Bad Liebenstein
Location: Bad Liebenstein
Structure: Hotel Charlotte
Project time frame: as of April 2020
The historic "Charlotte" hotel stood empty for many years. Now the workers' welfare association (AWO) wants to convert it into a residential building for seniors. To make this a reality, the workers' welfare association (AWO) submitted corresponding plans to the city of Bad Liebenstein in May 2019 and purchased the building.
Due to the poor condition of the structure, the two upper floors made of half-timbering are to be demolished. However, the first floor and parts of the front are still subject to the preservation obligation under monument law.
MB Spezialabbruch was contracted to demolish the building.
To accomplish this, the building structure of the former historic hotel building will first be selectively demolished up to the upper edge of the first floor, in compliance with historic preservation guidelines and aspects.
As it was impossible to enter the building due to the high risk of collapse, the dismantling is carried out completely from the outside. A long front excavator, CAT 340 F (55-ton class), with hydraulic attachments is used.
Since the entire building complex is a listed building, following exceptional permission to demolish the two upper floors, exercising caution in dismantling the first floor is crucial. The non-destructive recovery, cleaning, as well as securing, storing, and cataloging of 28 sandstone pilasters, each ten meters high, and their bases, requires a great deal of care. Pilasters and bases will be reused later in the new construction of the building complex.
The lifting of the pilasters and bases is carried out by means of two Merlo "ROTO" telescopic forklifts with a personnel platform for safe access of personnel to the respective working level. In addition, a special gripper on a hoisting winch is used to attach and lift off the sandstone blocks.
Finally, the remaining exterior walls and floor slabs on the first floor are secured.